Letter Art
What is the difference between a word frame and a poster print?
A WORD FRAME is the letters of your name, printed as individual 6×4 prints, set into a white matte board and framed in a moulding of your choice. Word frames are created by you, through our fun word frame tool, and purchased via our online store.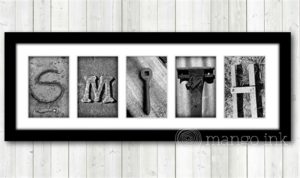 Word frame
A POSTER PRINT is fully personalised and comes as a poster print (framed or unframed). It is designed from scratch and allows you to add extra details (such as the word 'family', first names, quotes and dates). You can order a poster print by contacting us .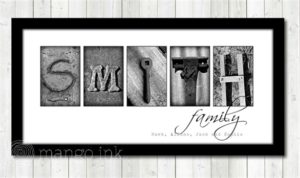 Poster print
How much is a WORD FRAME?
Word frames range in price from $79 (2 letters, minimum) to $239 (10 letters, maximum). Price includes the 6×4 prints, matte board and frame. Postage & handling is additional.
How much is a POSTER PRINT?
As each poster print is custom designed to your needs, each one is quoted separately. Please contact us for a poster print quote.
How long will it take?
Word frames and poster prints can take up to 4 weeks (not including postage time), sometimes longer in peak periods. Please contact us if you require it by a certain date and we'll see what we can do!
How many letters can I have?
Word frames (made via our word frame tool) allows for a minimum of 2 letters and a maximum of 10 letters. If your name/word is longer than this, please contact us about a custom-designed poster print.
What paper is used?
Letters and poster prints are printed on Fujicolor Crystal Archive Preferred Paper, which has excellent resistance to light fade and long-term dark storage (75 plus years).
Do you ship internationally?
No. We currently ship within Australia only. See our shipping and delivery page for more information.